Updated References Coming Soon! Below are testimonials from our old website, and over 15 years old.
Please visit our Facebook page for more current customer testimonials until we get this page current.
Dear Malinda,
I thought I would write you a note to let you know how happy we are with our new Labradoodle puppy, Lucy. We have had her for about three weeks now and she is such a sweet and intelligent dog, just as we had hoped. We have found that she is gentle with both adults and children alike.
We really appreciate the time you spent with us to make sure we understood the Labradoodle temperament, Lucy's needs as a puppy, and what we should expect in the first few days of getting to know her. Your help in teaching us how to set up our home to ensure a smooth transition made Lucy's introduction to our home simple. It is obvious to us that your initial training and caring for Lucy ensured that our adoption would be a success!
Lucy is a wonderful new member of our family and we very much appreciate your assistance. We will keep in touch and will send updated photos of Lucy.
Sincerely,
Janice, Dino, and Matt
Hi Malinda,
It's been a while since I sent you updated pictures of Lucy so I thought I'd pass on the latest from Halloween. Also, she just turned 1 year old (Buckaroo/Chenelle litter) so I was thinking I would send a quick update.
She is about 2 feet tall and 60 lbs. – just as you told us she would be. She loves to swim in our pool and we have a hard time keeping her out of it! She has such a sweet disposition and is a great family pet. We are stopped all the time by people who want to know what kind of dog she is and where we got her I've referred dozens of people to your website!) People also comment on how beautiful she is (which I agree w/ of course.)
I hope you enjoy the pictures – as you can see she thinks she is the queen of our house. We are still tossing the idea around of getting another puppy, I just need to make sure I am ready to go through the training process again!
Best regards,
Janice Passarello (and family)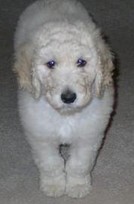 Malinda,
We just wanted to thank you for our beautiful puppies (now 8 1/2 months old) Fibi & Tucker. They are a delight and we just love them!
They seem to be full grown and I would say Tucker is just at 20 lbs and Fibi is about 18 or so. They are both a beautiful red color. Tucker is bright and solid in color and Fibi is kind of two toned (red underneath w/light tips). Both are striking and we get stopped everywhere we go!
We are so happy to have them and they have been quick to learn several tricks! Tucker gives a great Hi-5, they both can sit, lay down and roll over. Fibi will give Hi-5's when Tucker starts getting too much attention.
I met another of your clients she had two medium, black labradoodles (about 3 years old) I think "Todd & Grace", they are also siblings. It was fun to talk with another owner, there are definite Labradoodle traits! Again we just love these little pups and thought you would enjoy this holiday card!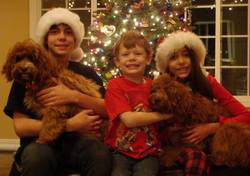 Warmly,
The Venezia's
Steve, Shari, Nick, Desiree, Alex and our Cute Labradoodle Puppies!! Fibi & Tucker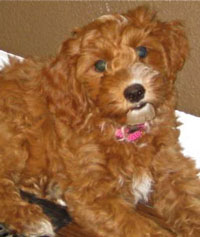 Hi Malinda!
Thanks for the holiday card. Thought I'd send you a recent picture of Molly (with me and Max). We took her for a little puppy grooming today (she couldn't see — she's so furry!) at PetSmart. When we walked in, Jan, the manager immediately said, "Is she one of Malinda's?" They couldn't have been nicer and said that Molly did a great job. We were so proud. I just love her little bow (although she keeps trying to scratch it out). Finally, a daughter of my own. Haha.
Matthew took Molly for a walk yesterday and was stopped by so many people admiring her. One wrote down your website because she was so interested.
Molly is doing great; puts herself to bed in her crate almost every night and has slept through the night since the first day. She weighs 14 lbs now and is growing like a weed. She hasn't had a potty accident in almost a month and loves playing with other puppies at puppy school. We're giving her more freedom in the house (just a bit) as she learns to chew her chew toys instead of the furniture.
She's very friendly to everyone she meets; we exposed her to tons of people the first month she was home, including babies and grandparents. (My mom calls Molly her "granddog" and carries around her picture).
Thanks again and Happy New Year!
-Michelle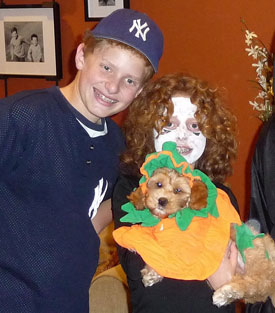 Hi Malinda,
First off, it was a pleasure to meet you last week and thank you so much for being so flexible with the time of our pick up.
On to Jazz (Sidney.) He's adjusting well I think. We're all getting used to each other's routines. If you could see the way Jazz prances around here sometimes, you'd think he owned the place! We were very surprised by how well he took to his crate. It was all set up for him, very comfy with towels and the blanket you sent home and then we tucked in the stuffed sheep that Darby took a liking to when we picked Jazz up. We just left the crate open while we all sat on the floor getting acquainted with Jazz. After a couple hours, he found the crate on his own, climbed in and took a short little nap with the door open – this was the night we brought him home! We couldn't believe it and he continues to do well with the crate. He sleeps well and I generally get up once a night to take him potty.
We named him Jazz, but he's taken on a second name at times – Spazz. Every so often he takes on a different persona. He runs around like crazy, barking, shaking his toys like mad, etc. After a time of that, he's pooped, takes a nap and wakes up to his normal self. The kids get a kick out of it.
Then there's his time exploring outside. He's attracted to leaves and bugs, especially ants. Sometimes he just like to laze in the grass, enjoying the relaxation. I took a picture of him yesterday while he was laying in his favorite spot and attached it for you.
Also, he did go to the vet the morning after we picked him up from your house and I have a copy of the print out in an envelope addressed to you. I missed the mailman today so it will go out tomorrow. My apologies for the delay.
That's all for now. Thanks again,
Kris Van Laar
Hi Malinda!
Jazz is the best dog in the world. (My apologies to Darby and your other dogs!) OK, he likes people a little too much and wants to jump up and hug them, but that's partly my son's fault – he invites it after school every day. Other than that, he's just perfect in every way that matters. Lots of love, very playful, super fun, doesn't run away when the front door opens, doesn't dig, doesn't chew things he shouldn't, likes to learn things, really good with other dogs and the cat that visits sometimes. I could go on and on. Ken and his mom never thought there could be a better dog than his childhood lab, but they both agree that Jazz surpasses Lucky the lab. Ken's mom babysits Jazz when we're gone and we're pretty sure she would keep him if she could get away with it!
Whenever someone asks us where we got Jazz, we never hesitate to tell them! And, if and when we decide we are up for another puppy, you're the one we're calling. As it is, we frequently check out the pups on the website!
Anyway, I hope all is well with you and your family and I hope you can see the picture I've attached. Jazz's eyes usually glow orange in my pictures and I haven't yet figured out how to fix it.
Kris Van Laar
Malinda,
What a wonderful addition to our family. MacArthur has fit in and seems to be very happy and the center of attention.
Our vet was so pleased on how well you had done with his breeding and early few weeks. He kept commenting on how well adjusted and healthy he was.
Thank you again for our little guy he is a great addition to our family.
Joyce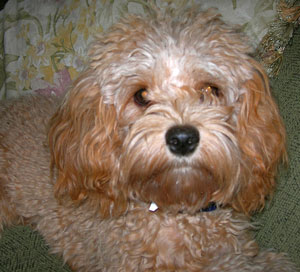 Hi Malinda,
Tansy, Jolie and I would like to wish you Happy Holidays. The three of us have become best pals, and Jolie, my Ragdoll cat, even allows Tansy to clean her face and ears every morning. They play together by running through the house chasing each other, and Jolie loves to get into a place where Tansy can see her but can't reach her. That of course makes Tansy bark like crazy. In fact, that is the only time she barks. They are really a pair.
I am enclosing a couple of pictures for you. As you know, it has been very cold at night, so I put a sweater on Tansy the other night. She liked it and immediately decided that stretching out on the nice warm couch for a nap would be in order.
Keep in touch,
Bobette, Tansy and Jolie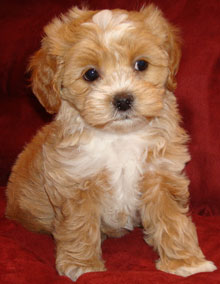 Hi Malinda,
Auggie is growing like a weed. 12.5 pounds now. He is so adorable. Everyone who sees him goes crazy! He is such a great dog and a wonderful addition to the family!
And maybe I sound like any Mom, but I think he's the smartest darn dog I've ever seen! He is wowing them at the puppy training class…except for chewing up the leash.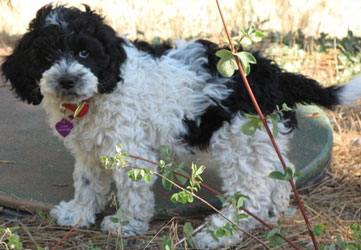 Dear Malinda,
We just got back from a trip to Lake Tahoe , where Mojo (now 9 months old) delighted in alternately rolling in the snow and swimming in the icy water! Watching him run back and forth, catching balls, running with the other dogs, and stopping for pats from every human around, I once again realized that we got the dog we always wanted. Thanks so much for listening to our requests for a mellow, but playful dog and matching them.
Right from the start, when you answered my many questions about the breed, it's been a pleasure working with you. When we visited little Mojo at 6 weeks of age, and saw your immaculate facilities, I knew he was in good hands. The whole adoption process was smooth even the long car ride home, when Mojo sat on one lap after the other, happy as could be.
We appreciate the care you took with Mojo, your professional approach to dog breeding, and most of all, for placing a wonderful dog with us.
Sincerely,
Allison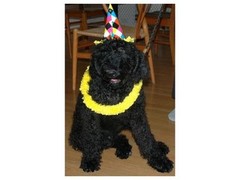 Dear Malinda,
It has been 11 months now since we picked up our cockapoo Bogey and he has completely changed our life for the better. Bogey is the most well-behaved puppy I have ever seen. He is also the most loving (and spoiled) little fella. It amazes me at how trainable he is and how quickly he learns.
Being allergic to animal dander, I never thought I would get to experience what a puppy can mean for a family. Now, I can hardly imagine our family without our wonderful gift from God, Bogey.
Thank you for nursing him through a difficult time when we weren't sure whether or not he was going to make it through his first few weeks. He may have been the runt of the litter, but he is a blessing to all of us!
God bless you,
Patrick, Sandra, Adriana, Alina & Bogey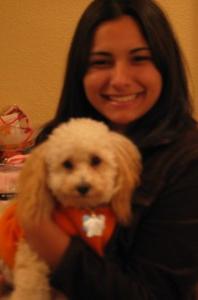 Malinda,
It was an absolute pleasure working with you to adopt our precious addition to the family. You were very responsive, informative and cooperative throughout the process, and helped us to select undoubtedly the cutest pup in the litter (in MANY peoples opinion!).
We absolutely adore Phoebe! She has captured our hearts, and everyone that sees her falls in love with her too. She is a walking advertisement for Darby Park Doodles! I can honestly say that EVERYONE that meets our little princess wants one just like her!
Phoebe may be the smallest of Tubby and Cajuns spring 05 litter, but she is full of energy and excitement, and constantly provides us with moments of pure enjoyment. Watching her hop/run around and explore her new home has been so fulfilling for us, and we havent laughed so hard in a LONG time! Every time we enter the room, she greets us like she hasn't seen us all day – she is such a charmer and SO loving! She definitely helps to fill the empty nest now that our kids are off to college.
We knew that she was meant for us when you informed us that she was born and it happened to be Dawn's birthday! Phoebe is the best thing that has happened to us in a long time, and we encourage others to work with you to find their own addition to the family.
Best regards, and THANK YOU AGAIN!!!
Bruce and Dawn (and Phoebe!)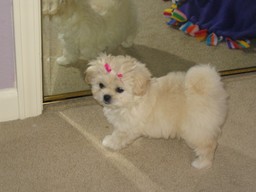 Dear Malinda,
I thought I would send you an update on the labradoodle we purchased from you last summer. We are very happy with Woody's sister, Saydee. She is about 10 months old now and she is the center of our household. She, like Woody, has a white tip on her tail which we find very endearing. Saydee is about 25lbs and about 20 inches tall. She is the talk of our neighborhood. Everyone knows her by her name and asks for her when she is not with us. People who haven't met her, compliment her coat and her friendly personality. We find her extremely intelligent and full of energy. She often outsmarts us in fact!
We want to thank you for spending time with us and helping us decide to get a dog. We also greatly appreciate the time you took to explain what breed we would need to make sure she would be hypoallergenic. You have helped us get the perfect dog for our family. We appreciate all your help and recommend you to everyone who seeks recommendations on breeders.
I have included some photos of Saydee of when she was a puppy and a more recent photo of her as well.
Thank you,
The Srinivasan Family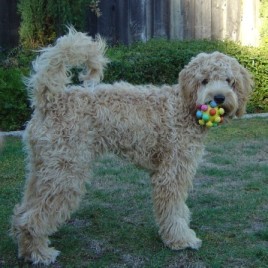 Dear Malinda,
We wanted to send you a huge Thank You! for our Labradoodle puppy, Jack!
You are a breeder-extraordinaire! Thank you for your diligence and insight into puppy/littermate behavior. We asked for temperament over shedding and you delivered! Jack is an amazing dog and is an extremely fast learner and good sleeper. Everyone who has met him agrees that he is too mild-mannered to be true. Are we truly that lucky? Not really, you are just that good!
Of course, the jury is still out as to if/when our cat, Gracie, will ever invite jack out for kibble, but we keep hoping and checking with other mixed animal families for insights.
Enjoy the picture of Jack. We will keep you posted on our adventures.
Best wishes to you and your family.
Cheers,
Michael, Lynne, Jack & Gracie Walker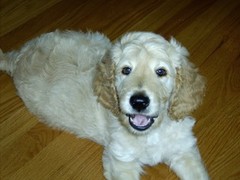 Malinda,
I just wanted to send you a note that the puppy and I arrive home just fine. The ride back was a bit long, but he fared through it well. I decided to name him Scout. He is quite an explorer. He has already mastered the doggie door. Next is housing breaking.
Scout is getting along quite well with my two other dogs, Mark the beagle and Casey the cockapoo. Scout and Casey have already discovered the joys of chasing each other through my house – around the dining room table … and into the living room … through the kitchen … out into the backyard … back through the kitchen. Casey loves being chased and Scout is very willing to oblige. Mark is still feeling a bit down. I think he has Cushings disease. He goes into the vet this Wednesday for a diagnosis. From what I have read about Cushings, the treatment seems to work well in alleviating the major symptoms and allows the dog to have a comfortable life. Mark is 13 years old, so he has already slowed down quite a bit.
Attached are a couple pictures. One is of Casey, Mark, and Scout keeping watch over the yard from my back porch. The other is a really cute shot of Scout. I'll send you more pictures as he grows.
Take care,
Sonia Savoulian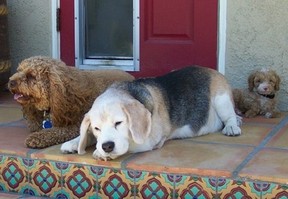 Hi Malinda:
I've been meaning to send you an email to once again express my appreciation for giving us our little treasure, Peanut the cockapoo, who we adopted from you in May 2004. Peanut is such a smart, sweet dog, and is great around kids. I know that a lot of her attributes came from your care in breeding her and in raising her with your family before we adopted her.
She has the kind of personality that people just gravitate towards. She has never met a person who hasn't fallen in love with her. All our friends and co-workers ask us to bring her to every function possible, and she loves being the center of attention. I am always recommending that people who love Peanut contact you. Please feel free to use me as a referral! Here are a few pictures of Peanut.
Cassie Springer-Sullivan
Dear Malinda,
After so many years of yearning for a dog, I finally found Biscuit. Thank you for making it possible for me to have a dog that doesn't worsen my medical condition. Biscuit is so lovable and always with me when I am at my worst and at my best. He is always with me during my daily medical treatments.Biscuit and I are inseparable just like guide dogs. He loves to sprint all over the yard and loves the water and his squeaky toys. Biscuit grew very fast from when we got him at about 3 lbs then to a whopping 16 lbs at 7 months and still loves to be carried, hugged, and kissed. Our new
addition to the family is a blessing to all of us.Biscuit's loving and understanding misdemeanor cannot be discribed in words…you just have to have a cockapoo just like him to understand what I mean. I love Biscuit Julius Ruliva. Thank you from the bottom of my heart!
Love,
Katrina Ruliva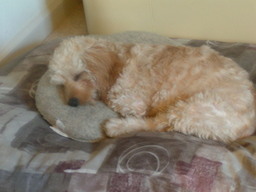 Hi Malinda,
Hope all is well with you and your family. Just wanted to let you know how our lives have changed since Sammy joined our family. He is beautiful, almost everywhere we take him someone stops and says "Oh that is the cutest puppy, you should put him in pictures!". The love he gives us is priceless. He is the happiest puppy and approaches
everyone with his head bowed and his tail and fanny wagging away. He is our little baby and we love him. You were right he loves the car and he sits in the back seat and never makes a fuss. We have attached some Holiday Pictures for you to enjoy. Have a wonderful Holiday Season.
Donna Reimels
Hi Malinda-
Happy New Year. I hope you and your family had a great holiday season. I just wanted to let you know that we had Merle neutered on Dec. 21 at Pets Unlimited. He's all up to date with vaccines and has graduated from Puppy Manners with the SPCA and Puppy II with Sirius Training. He weighs 9lbs 6oz now and has all his adult teeth. Our vet says he's in great shape, perfect weight and to keep up the good work.
He is a wonderful guy- so happy and friendly. He loves people of all sizes and shapes, and dogs large and small. We've enjoyed him so much and are grateful to you for choosing him for us, and for raising such amazing companions.
Best wishes
Judy and Ida
And Merle of course – hello to billy bob and norma jean(Merles siblings)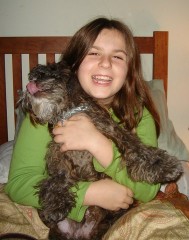 Hi Malinda,
I just wanted to thank you for such our wonderful toy cockapoo named Billy. I would have never imagined having a dog since my parents both were not dog people. Now, everyone in the family has fallen in love with him. He is so much apart of our family that he is taken almost everywhere with us. Billy is very smart; he picked up dog obedience training very quickly. We are very lucky to have such a great dog.
Thank you for all your help.
Lindsay & Billy the toy cockapoo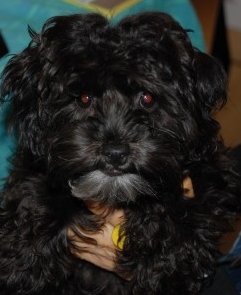 Malinda-
It has been 4 1/2 months since we picked up little Sammie and brought her home with us. She was and is just the sweetest thing. Our kids just adore her and she is constantly showered with attention and lots and lots of love. I don't think our 8 year old ever puts her down. Luckily she is very patient.
Thanks so much again for a perfect little puppy. As I type this she is asleep at my feet. I hate to get up as she will follow me anywhere.
Thanks again
Jill Huisken
Malinda-
I just wanted to touch base with you to thank you again for our little puppy, Sammie. Last weekend we celebrated her first birthday and my daughter even baked a puppy friendly birthday cake for her.It's hard to imagine her ever NOT being around. She cuddles with our 3 girls and is an ever present playmate to our 5 year old son. He even trained her to shake all by himself!I've attached a couple pictures of her for you to see. She just got back from the groomer and she is now 19 lbs.
Jill Huisken
and Todd, Kylie, Jolie, Sophie, Dean and Sammie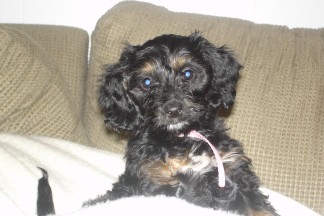 Hi Malinda,
We just celebrated Ginger's one year birthday – I can't believe how quickly the time has gone. I had a party for her and about 15 people came along with three doggies. She was the perfect hostess and had a wonderful time.
I don't think I have ever encountered such a wonderful dog – she is just perfect and the love of my life. Her personality is sweet, she is so smart and she is a real loveable little girl. She has greatly improved in the area of separation anxiety and socializes very well with other dogs and people. We bonded from the first minute I think and the relationship just continues to grow and get stronger. Happily, as I work out of my apartment, we can spend a lot of time together.
Thought you might like to have some photos of her – Thanksgiving, Halloween and her birthday outfit. I have also told a few people about you in the event they want to get a puppy. I think I mentioned that I met Michelle Fife and their Cockapoo – hope to see them again soon.
Well, that's the news from us.
Joyce and Ginger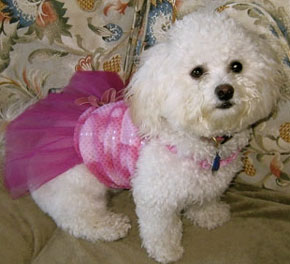 Malinda,
Pumpkin is truly a wonderful puppy. The vet was amazed at how accommodating he was when he was being examined. He's slept through the night from day one and is learning little bits each day. He seems so smart, truly. He is absolutely adored by my girls and is so amenable to all their loving and snuggling and dragging and wriggling, etc. I think you must have done a wonderful job preparing him for a family.
Thank you.
Stacey
Hi Malinda,
We just wanted to write to you and thank you for Queenie she is the best thing that has ever happened to us. We can't believe almost a year has gone by since we picked her up from you. Thank you for being so patient with me and my allergies and my fear of dogs in general. If you saw me now with her you would have never imagined we had such a ruff first few days. I swear she thinks she is human she sleeps with us, she hangs out on the couch with us and she hates being alone. She is the love of our life. I am sending you some pictures from her Birthday Party it was so cute. I think Queenie is one of the most spoiled dogs I know. Thanks again you really are the best breeder around you take so much time to get to know each family on a personal level and the way you match up the dogs is amazing. We truly thank you and think you did a perfect job with us!!!
Erin, Dan, and Queenie Goncharoff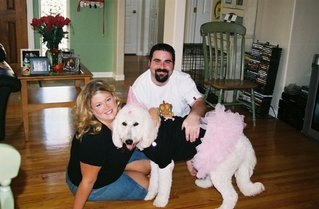 DEAR MALINDA:
HI!! THIS IS RUBY'S MOM CHECKING IN…………..
OUR VET (WHO HAS SEEN PROBABLY 1,000 DOGS IN HIS LIFETIME) SAID THAT SHE IS A WONDERFUL DOG!!!!! AND WE AGREE!!!!!!!!!!
SHE WAS EASILY HOUSEBROKEN–DID IT HERSELF–
SHE FETCHES/AND OUT RUNS OUR 60 POUND PORTUGUESE WATER DOG AJAX.
SHE ANSWERS TO HER NAME
AND SHE IS SNEAKY/FUNNY!!!
SHE SHREDS PAPER AND HIDES IT
SHE TOOK THE BOTTOM PIECE OF A ROLL OF TOILET PAPER FROM THE HALL BATHROOM AND JUST KEPT RUNNING THROUGHOUT THE HOUSE UNTIL THE ROLL RAN OUT…..
SHE NAPS UNDER THE COUCH OR UNDER A BED AND THEN WE CANNOT FIND HER AND GET WORRIED–AFTER WE CALL HER SHE STICKS JUST HER NOSE OUT
SHE HIGH JUMPS UP AND GRABS A PIECE OF MILK BONE RIGHT OUT OF AJAX'S MOUTH
IF I AM STTING IN A CHAIR WITH MY SHOES OFF, SHE GRABS A SHOE AND RACES AWAY DOWN THE HALL (SHE IS HARD TO CATCH)
AND SHE IS BEYOND PRECIOUS!!!
WHEN JIM OR I ARE IN THE BATHROOM WITH THE DOOR CLOSED, SHE SITS OUTSIDE THE DOOR AND WAITS FOR US
WHEN WE PICK HER UP SHE GIVES US A THOUSAND KISSES
WHEN WE ARE SITTING ON THE COUCH WATCHING T.V. SHE BEGS TO SIT ON THE COUCH ALSO–AND WE LET HER (SORRY, BUT IT IS OK WITH US)
SHE IS WONDERFUL WITH THE GRANDCHILDREN AND VISITORS
SHE SITS QUIETLY WHEN I BRUSH HER (NEXT I WILL ATTEMPT TO BRUSH HER TEETH–THE VET SUGGESTED WE DO THAT)
SHE AND AJAX HAVE FORMED A TRUCE–
AND LASTLY–SHE IS JUST GORGEOUS–BEAUTIFUL COLORING
WE ARE JUST SO HAPPY TO HAVE HER AS PART OF OUR HOUSEHOLD–WE JUST LOVE HER………….
THANKS AGAIN,
COOKIE SVINGOS
Dear Malinda:
Ruby had her first "real" haircut yesterday. Jim and I liked her "shaggy", but leaves and small twigs were sticking to her fur and we knew it was time. She looks very neat and "grown-up" and the groomer said that she is a "doll"…………..easy to work with/very patient.
Our other dog Ajax "taught" her to bark at the mail carrier and the UPS person, — now she is our mini watchdog. We just love her even though she chewed her first thing–my slipper. Now we are just more careful about what we leave on the floor.
Cookie
Hi Malinda,
I just wanted to send you 2 new photos of Cali! She's so cute and such a good girl. She's getting bigger and she's super fun and playful. Thanks again!
Lyndsey Cooper